The school presented its Christmas Assembly on Wednesday, December 13th. The show began with the Choir singing New Boy Born. The pupils' singing was fantastic; everyone knew all the words and sang very confidently; they really looked as if they were enjoying themselves and that was conveyed to the audience.
Year 3 then began to tell the Christmas story beginning with the Angel Gabriel's visit to Mary who told her she was to have a son. The stage was full of angels who sang Mary's Boy Child followed by It was on a starry night. A shepherd and a king arrived and took up a central position on the stage. Next they all sing Silent Night. Again the singing was delightful and all the children were fully engaged with their performance.
The continuing story was then narrated by Year 4. Mary and Joseph travel to Bethlehem and there Jesus was born. The shepherds hear the news and make their way to see the baby. A touch of humour was introduced into the traditional story. Mary was portrayed as a bit of a nagging wife who blamed her husband for the tiring journey and the fact that they had nowhere to stay which was particularly upsetting in her condition. Joseph's response was : It's your fault for getting yourself pregnant !! which brought much laughter from the audience  The shepherds were on their way to Bethlehem but not without a bit more humour. One shepherd announces that his supper consisted of shepherd's pie and angel delight. The costumes were excellent as was the singing of Away in a manger, While shepherds watched their flocks by night and O Little Town of Bethlehem.
Year 5 tell of the kings bringing their gifts to the new born King and how they  were warned in a dream not to return to the wicked King Herod. The nativity story was interspersed with Christmas jokes which had the audience laughing once again. The pupils sang We Three Kings and Once In Royal David's City with soloists Alfie and David. Once again the singing was of a high standard.
The audience was then told about Christmas traditions in other countries. Each pupil held a flag of the country they represented and showed pictures to illustrate the various traditions which was very interesting. Recorder players entertained with their performance of Jingle Bells and finally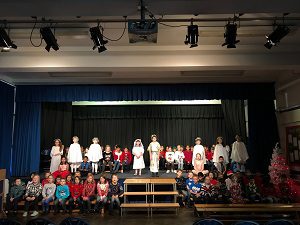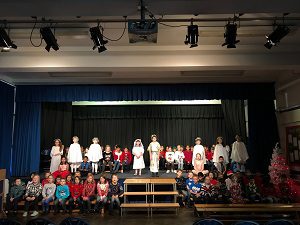 they all sang Joy to the World.
The whole school then assembled to sing We wish you a merry Christmas.
The assembly was very uplifting and a great start to the Christmas season. Mrs Needs could, indeed, be very proud of her staff and pupils for presenting such a great show. Mention must also go to Miss Baker who played the piano.